WELCOME TO WEARLIFE
At Wearlife Services our philosophy is simple, our objective is to increase your profitability by prolonging the usable life of your Wear Parts thereby reducing downtime and maintenance. Producing only the highest quality parts is paramount to our success and yours.

PASSIONATE
Being passionate about what we do is fundamental to our success and that of our clients.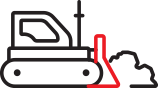 DEPENDABLE
Our clients depend on us for prompt and reliable service and support, with Wearlife Services always delivering on time. 

INNOVATION
At Wearlife Services we think outside the square, with innovation and research & development going hand in hand.

HARD WORKING
The diligence and commitment of our employees has resulted in an enviable reputation within relevant industries.
TUNGSTEN CARBIDE
BREAKING THE INDUSTRY STANDARD FOR THE BEST RESULTS
The Tungsten Carbide particles utilized by Wearlife Services are of a specific geometry and size ensuring adequate penetration of the molten matrix while also providing thorough encapsulation of each particle within the matrix preventing fall out due to vibration and impact.
FIND OUT MORE
PROVIDING PERSONALIZED AND HIGH QUALITY SERVICES
Wearlife Services Pty Ltd remains committed to providing our clients with the highest quality wearparts and service
CONTACT US